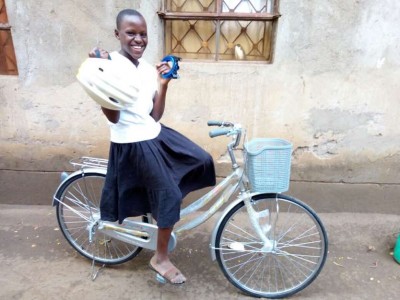 A group of incredibly kind and passionate woman in and around Kimbolton have started 'Meals for Wheels'. It is a fundraising supper group, where the members meet once a month for a dinner party and each month they raise enough money to buy a child a new bicycle, helmet, pad lock, arm and knee pads and a puncture kit.
Having a bicycle means so much to these children, whose families have very little, and they would never have imagined ever owning a bike. It cuts out the long walk to school, meaning less time and energy spent walking to school and more energy spent in the classroom. It also means less absent days, children will be less inclined to miss a school day as it will now be easier to get to school. But also each time a child receives a gift, they feel special, loved, grateful for their sponsorship and encouraged to work harder at school.
It is a wonderful fundraising activity and goal and we can't express how happy we are to see these children receive such amazing gifts. We have three more children in Government secondary schools (2 girls and 1 boy) and one more boy in his last year of Government primary school, so we hope to buy all these children bikes and then we have more children in the private schools who would also hugely benefit from having bikes.
Thank you to everyone who's involved!