Fund Raising
Some examples of fundraising events include:
Cake sale
Coffee morning
Donation dinner party
Donation movie night
Art auctions
Gig nights
Exhibitions
Sports events
Donating Money
A one off donation or a regular monthly contribution of anything from £1 upwards could buy the following:
Uniform £15
Sports kit £15
School shoes £5
School bag £5-£15 depending on quality
50 pencils  £1.50
Stationary (exercise books, pens and pencils) – £30 per child / year.
Donations would help pay for school fees of the one third of our children that do not have personal sponsors, but who are sponsored to go to good quality schools through the charity, for example, £400 a year for one child to attend private primary school.
 Sponsorship in kind
We have people traveling to Tanzania who can always take light weight items in their luggage.  Some examples of items that are always needed and greatly appreciated: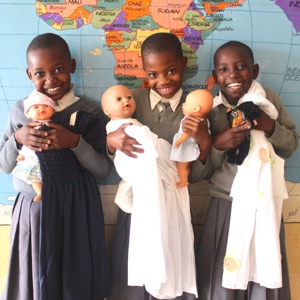 Clothes
Dolls
Shoes
Toys
Arts and crafts
Story books
Stationary
If you would like to help with any of the above please click on the link below
Our thanks go to our team of helpers that support us tirelessly…….
Our Trustees
Angela Kenyon | Kelly Philips | Christopher Faulkner | Paul Atherton | Kate Bielich
Our Supporters
Kelly Phillips – logo and general design
Penny Phillips  www.penprofiles.co.uk – for help with web content
Amanda Faulkner & Ron Waite www.centaro.co.uk – for web design, hosting and maintenance