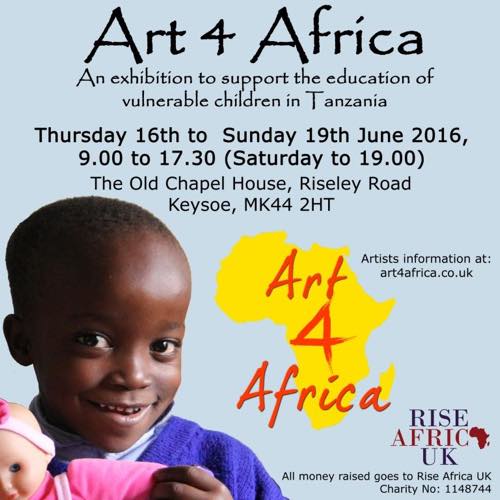 Next week Rise Africa UK are hosting their biggest event yet, Art 4 Africa, an art exhibition held at my Dad's house in Keysoe, Bedfordshire, from the 16th to the 19th of June 2016! Over 40 spectacular artists are exhibiting including sculpture, ceramics, photography and much more. There will be food and drinks, and smaller items on sale sourced from Tanzania, such as greeting cards, keyrings, earrings and beautiful beaded coasters designed and created by Maasai ladies. This event has been organised by the trustees of Rise Africa UK, with the help of many amazing and wonderful people in the local community surrounding Keysoe, including many children who will also be actively raising money over the duration of the exhibition.
25% of any art work sold will be donated to Rise Africa UK and all funds raised will go towards the education of vulnerable children in Tanzania. Bedford is only 36 minutes from London Kings Cross, and it is free to attend, so please do try and go along! For further information please visit www.art4africa.co.uk.
Wishing for sunshine, lots of visitors and a successful event all round! Thank you to EVERYONE who has worked to tirelessly to make Art 4 Africa happen!
Good luck,
Olivia