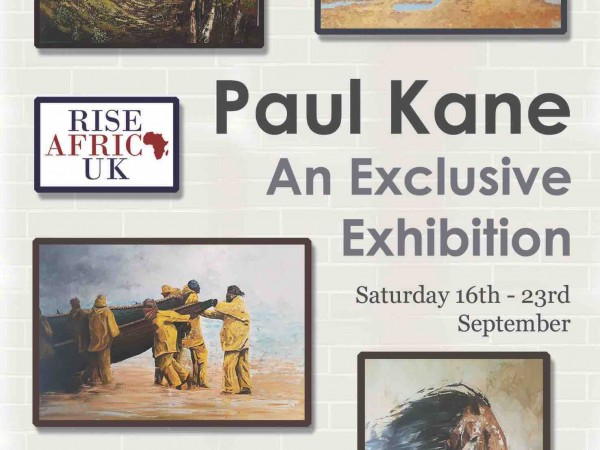 Local artist supports Rise Africa
This September, The Framery, will be showcasing the work of local artist Paul Kane through an exclusive exhibition in their gallery in Stonely. Paul, who has exhibited at the renowned Mall Galleries in London and Trafalgar House in the New Forest, initially established his reputation through his stunning realist-style representations of horses, but has since diversified his themes and techniques to encompass a much broader range. "I find that being predominantly a commission artist has meant that I have had to adopt many new and different approaches to my art, using a wide variety of media and methods. My clients trust me to choose the best way of producing the image they want, whether it's a pet portrait, a loose abstract image or a full-blown Himalayan landscape mural".
The exhibition will comprise Paul's work in oils on canvas, sketches, acrylics, pastels and mixed media.
Paul participated in the Art4Africa event, spectacularly hosted by the Faulkner family in Riseley last June, which raised several thousands of pounds for the Rise Africa UK charity helping to fund school places for vulnerable children. "Art4Africa was a real inspiration, both for the worthy cause it supported and for the quality and diversity of the local art on display. That event, along with the added impetus of moving to a new studio at Ivy Lodge Studios near Sharnbrook this year really stirred my creativity" says Paul. " The Framery exhibition will show people how I have stretched myself and evolved as an artist, and hopefully make some contribution to Rise Africa UK as well".
Emma Wright is co-owner of the Framery. "In our business we obviously see a lot of artist's work. It is really noticeable that the quality of much of the locally-produced art matches up to the nationally acclaimed names. Paul is a great example of that", she says. "The previous exhibitions we have held have generated quite a lot of interest and it's good to hear the feedback from people who tell us that they enjoy seeing the talent that's here on their doorstep, " she adds. "The opportunity to talk to the artist about his work is another feature of Paul's exhibition which people appreciate."
The Paul Kane exhibition will be open to the public at The Framery from September 16th to the 23rd, with an opening night exclusively for a select list of invited guests.
The Framery
The Old Exchange
1 Park Lane
Stonely (Kimbolton)
PE19 5EE
9.30 to 5 pm Tuesday – Friday
930 to 4 pm Saturday
Sunday 17th September 11am – 2pm
For more information go to www.theframery.co.uk or call 01480 860086 or email framery.workshop@gmail.com