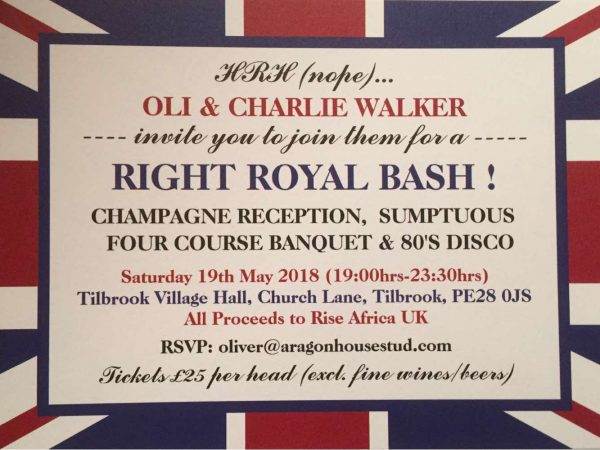 Saturday 19th May 2018

With just three months to go to the big day and as part of our ongoing commitment to Rise Africa UK we (Oli and Charlie Walker) are hosting a very special evening to celebrate the marriage of Harry & Megan…..and of course not forgetting the highlights of the FA Cup Final. 

The evening is called a Right Royal Bash and it is our intention that it will be in every way as good as the one Lizzy and pals are hosting at Windsor Castle! In fact she's genuinely gutted that she can't join us by the way. We did discuss it but in the end we were worried the pace may be FAR too fast, and the company FAR too racy for such a gentle soul!!!!

So we have chosen you as our "A" LIST CELEBRITIES and as part of an ELITE GROUP who we want to share in the delighted of this very special evening and to make it a day that will never be forgotten (hopefully for all the right reasons).
On the night you will indulge in a wide variety of delights including;
• Champagne Reception
• Four Course Banquet – Fit For a King!
• 80's Disco with IBIZA trained DJ "Money Bags Simon"
• Licensed Bar serving selection of soft drinks and fine wines
• Attendance by various (non-animated) members of the Royal Family
• Televised viewing of the key highlights of the day (incl. nuptials & footie)
• Awesome "A List" celebrity attendance with whom you will be able to rub shoulders with freely for the entire evening
So, why are we doing this?
Well it's very simple! We are looking to raise enough money to buy SIX MILKING GOATS to send to the families of the Rise African program. A milking goat is an incredibly rare commodity in Tanzania, and would make a huge difference to all of these families who enjoy very little pleasure/luxury in their lives. To do that our target for the event is to raise £990 as each milking goat costs around ~£165.
"Our commitment is that 
we aim to fund the entire event through donations & 
using our very best powers of persuasion!"
Which will no doubt involve a very large dose of begging, stalking and cajoling BUT which has also seen us parting with some VERY SPECIAL person effects in order to raise funds. Some are of very special scientific interest and date back as far as 2004. Including treasures such as Buzz Lightyear, Harry Potters Magic Wand (slightly chewed at the tip by a starving child) and a 5587 piece LEGO collection. May they all find happiness in their new homes. By doing this, it means EVERY PENNY you spend on the tickets AND the refreshments will go directly to Rise Africa UK. This is a truly fantastic cause, not to mention an amazing opportunity to have an unforgettable evening, in super company and for the bargain basement price of just £25/head…so please do join us!
"SIGN ME UP" ……..I hear you say!
So all you have to do is go onto the "Just Giving website using the link below (Oli-and-CharlieWalker) and you will find a page with all the details about our "Goat-A-Motion" project. When you pledge remember to leave a message to say who you are and how many adult (£25/head) and Under 16 or Over 60 (£12.50/head) places you want to reserve and we will post the tickets to you to present on the day.
www.justgiving.com/fundraising/oli-and-charliewalker
We so look forward to sharing this special occasion with you and THANKS for all your support!!!!
With very best wishes
Oli & Charlie Walker.x